We're still in the process of moving everything from U2tours.com to our new home here on @U2. As you use the site, you might find some bugs and you'll probably find missing information -- particularly setlist details like snippets. We'd love your help as we continue to work on the site! Please see the "welcome guide" web pages for an overview of the new site, as well as details on how to join the effort to finish building the site -- either casually or as a member of the @U2 staff. Thanks!
Latest U2 Tour News & Rumors
Posted: January 09, 2017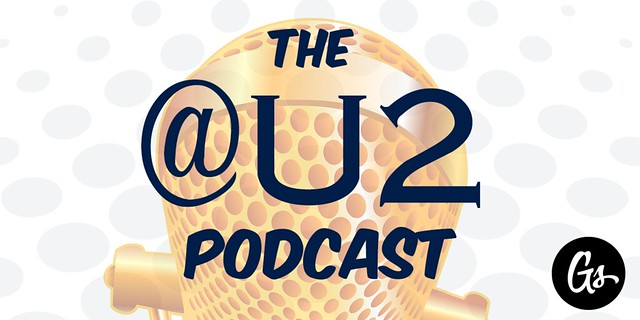 A special occasion like U2 announcing new tour dates calls for a special edition of the @U2 podcast. Today, a few of our crew got together for a quick chat about the announcement of The Joshua Tree Tour 2017 covering topics like the possible setlist, ticket options and how popular this tour might be among casual U2/music fans.
We're calling this a "B-side" and we plan to do more special, unexpected, news-oriented podcasts in addition to our regular episodes that come out every couple weeks. This first "B-side" runs just 17 minutes and you can listen online:
B-Side #1: U2 Announces Joshua Tree Tour 2017
Posted: January 09, 2017
It's true. U2 is hitting the road later this year to celebrate The Joshua Tree, an album that turns 30 years old in March. The band has just posted the full set of concert dates for The Joshua Tree Tour 2017, a trek that initially involves 24 shows over nearly 12 weeks in North America and Europe.
In the announcement, and in the band's tweet, U2 says they'll be performing the album in full at every concert. That means fans will hear "Red Hill Mining Town" live for the first time, as well as rarities like "Mothers Of The Disappeared" (only played 16 times), "One Tree Hill" (only played 44 times) and "Trip Through Your Wires" (only played 86 times, and none since 1987). You can see the full set of Joshua Tree songs and how many times each has been played on @U2 Tours. In a new interview with Rolling Stone, The Edge says "we will be playing the album in sequence," but he says the shows may not begin with "Where The Streets Have No Name."
It begins May 12 at BC Place Stadium in Vancouver, BC, Canada, and wraps up August 1 at King Baudouin Stadium in Brussels. U2 will also make its first appearance at the Bonnaroo festival in Tennessee, which runs June 8-11 this year. Formal details on that performance should be announced on Wednesday (January 11).
It's possible that additional shows will be added in some cities, perhaps based on ticket demand for this first batch of shows. On that subject, tickets will go on sale to the public beginning Monday, January 16 in Europe and Tuesday, January 17 in North America. Paid U2.com members will have access to ticket presales that start this Wednesday, January 11, and end this Friday, January 13. The official announcement doesn't say anything about ticket prices. It does say that all floor tickets will be general admission, and North American shows will be paperless ticketing for those GA floor spots "unless otherwise noted." (UPDATE: It looks like ticket prices in North America are ranging from about $35 to $280 USD/CAD, and in Europe from about $38EU to $190EU.)
As has been reported here since early last week, the tour will play exclusively in stadiums. Unlike the Innocence + Experience tour in 2015, U2 will bring an opening act on the road with them this time out. The Lumineers, Mumford & Sons and One Republic will be the support acts in North America, while Noel Gallagher's band, High Flying Birds, will open in Europe.
Here's the full set of shows announced so far on The Joshua Tree Tour 2017:
The Joshua Tree Tour 2017 North America

Fri. May 12: Vancouver, BC at BC Place Stadium
Sun. May 14: Seattle, WA at CenturyLink Field
Wed. May 17: San Francisco, CA at Levi's Stadium
Sat. May 20: Los Angeles, CA at Rose Bowl
Wed. May 24: Houston, TX at NRG Stadium
Fri. May 26: Dallas, TX at AT&T Stadium
Sat. June 3: Chicago, IL at Soldier Field
Wed. June 7: Pittsburgh, PA at Heinz Field
Sun. June 11: Miami, FL at Hard Rock Stadium
Wed. June 14: Tampa, FL at Raymond James Stadium
Sun. June 18: Philadelphia, PA at Lincoln Financial Field
Tue. June 20: Washington, DC at FedEx Field
Fri. June 23: Toronto, ON at Rogers Centre
Sun. June 25: Boston, MA at Gillette Stadium
Wed. June 28: E. Rutherford, NJ at MetLife Stadium
Sat. July 1: Cleveland, OH at First Energy Stadium

The Joshua Tree Tour 2017 Europe

Sat. 8 July: London, UK at Twickenham Stadium
Wed. 12 July: Berlin, DE at Olympic Stadium
Sat. 15 July: Rome, IT at Olympic Stadium
Tue. 18 July: Barcelona, ES at Olympic Stadium
Sat. 22 July: Dublin, IE at Croke Park
Tue. 25 July: Paris, FR at Stade De France
Sat. 29 July: Amsterdam, NE at Amsterdam Arena
Tue. 1 Aug.: Brussels, BE at King Baudouin Stadium
It's the first time in U2's history that they'll go on tour to celebrate/promote a previously released album. The Edge tells Rolling Stone that the decision to revisit the nearly-finished Songs Of Experience and Joshua Tree at the same time was prompted by the political changes that happened in 2016.
"It's like a pendulum has suddenly just taken a huge swing in the other direction. So, anyway, we then were looking at the anniversary of The Joshua Tree, and another thing started to dawn on us, which is that weirdly enough, things have kind of come full circle, if you want. That record was written in the mid-Eighties, during the Reagan-Thatcher era of British and U.S. politics. It was a period when there was a lot of unrest. Thatcher was in the throes of trying to put down the miners' strike; there was all kinds of shenanigans going on in Central America. It feels like we're right back there in a way."
The Joshua Tree was released on March 9, 1987. It immediately became U2's most critically and commercial successful album, with current sales estimated at more than 25 million copies. "With Or Without You" and "I Still Haven't Found What I'm Looking For" -- the first two singles from the album -- became U2's first No. 1 singles in the U.S. The album went on to pick up Grammy Awards for Album Of The Year and Best Rock Performance By A Duo Or Group With Vocal. In 2014, it was added to the Library of Congress National Recording Registry -- a collection of recordings that are considered "culturally, historically or aesthetically significant."
As part of our own #U240 podcast series celebrating the band's 40 years together, we recently dedicated an episode to The Joshua Tree. You can listen to that show online if you missed it the first time around.
Posted: January 07, 2017
A new promotional graphic, shown above, for U2's (still unannounced) May 20 concert at the Rose Bowl in Pasadena reveals two things that haven't been confirmed yet:
The opening act, at least for this show, will be The Lumineers. Their name, along with Mumford & Sons, has been previously linked in rumors about U2's North American tour.
The tour itself is being called The Joshua Tree Tour 2017.
The graphic also features a recent photo of U2 in poses similar to the original Joshua Tree album cover from 1987; we're not sure where this new photo was taken, but I'm betting one of you reading this will tell us soon enough. Other than that, the image confirms the previous rumors that we wrote about several days ago such as the date and venue of this Los Angeles-area show, as well as a January 17 public on-sale date for tickets. We received this image via the same source that has previously tipped us to information about this Joshua Tree 30th anniversary tour.
As we reported last week, the full tour announcement is expected sometime Monday (January 9). As always, until that official announcement, all of the information you're reading here and elsewhere online should be considered rumors.
Posted: January 06, 2017
Following up on our report earlier this week, a reliable source has shared additional info with @U2 about U2's plans to tour in support of The Joshua Tree's 30th anniversary this year.
We're told that the tour will play exclusively in stadiums and will begin May 12th in Vancouver, BC, Canada. Additional cities on the band's itinerary are rumored to include Seattle, San Francisco, Los Angeles (Pasadena), Philadelphia, Boston, New York City (NJ, to be precise) and Washington, DC. We don't know what other North America cities, if any, are getting shows. We don't know if there'll be one show or two in any/all cities, but our previous report suggested a pair of shows in Pasadena.
This info is coming from the same source we quoted earlier in the week, a source that correctly tipped us four times before and during the Innocence + Experience tour.
We've also begun to hear rumblings related to European shows in support of The Joshua Tree's anniversary, and will pass those along when we get more concrete information. There are plenty of rumors already online related to Europe and this tour, in general, and you can check out U2songs.com's rumor collection page for more.
We wouldn't be surprised to get additional information later today and over the weekend, and will update this story (or add new stories) as we learn more. As far as we know, our previous report that the formal announcement will happen this Monday, January 9, is still accurate, but with dates and cities leaking out, it could be moved up.
Posted: January 03, 2017
Although not official, @U2 has been tipped by a reliable source that U2 and Live Nation are planning a major live announcement next Monday, January 9. This is in line with a recent rumor from U2Chile.net also suggesting a January 9th announcement.
Further, our source says one of the shows to be announced will happen on May 20, 2017, at the Rose Bowl in Pasadena, California. This will be one of the "special shows" for the 30th anniversary of The Joshua Tree that Bono revealed in U2's Christmas day video. Tickets are expected to go on sale for this show on Tuesday, January 17. There may be (and likely are) additional shows to be announced next week, but our source didn't share information on those.
As always, these are just rumors for now and could be totally inaccurate. That said, our source is someone who shared four tips with us during the Innocence + Experience tour and was correct every time. Still, no one should be booking hotels, air travel, etc., until an official announcement is made. As with U2 or any artist, plans are always subject to change.
We've reached out to our contacts at U2's public relations team and will update this post if we get confirmation or learn anything new.
UPDATE: We incorrectly referred to January 17 as a Monday. The article has been corrected.
UPDATE, Jan. 4: Our same source is indicating that a second show at the Rose Bowl could be added on May 21. That fits this report from the Riverside Press-Enterprise, which says that stadium officials gave their approval last month for a two-day concert event on May 20-21.
Posted: November 01, 2016
UPDATE: As expected, both the Facebook event and Ticketmaster sales page have been removed. Our original story is below, with links (now broken) still intact.
An unannounced -- and possibly completely made up -- U2 concert in Columbus, Ohio, next fall has just shown up on U2's Facebook page as well as Ticketmaster.com.
A little after 5:00 PM PT, fans started alerting us on Twitter to a Facebook event that was added to U2's event listings there. The show is listed as taking place on Friday, October 20, 2017 at 8:00 PM at the Schottenstein Center in Columbus, Ohio.
As you can see on the screenshot, there's an indication that tickets are available through Ticketmaster, with a "Find Tickets" link that leads to a sales page on Ticketmaster.com that looks like this:
Both pages indicate that the show is part of the Innocence + Experience tour. The Ticketmaster page includes a message saying "On sale date and time are in the works - please check back!" It doesn't include a stage diagram for any U2 show; instead, it shows the venue's default end-stage concert setup. The language related to ticket sales matches how the 2015 tour worked -- i.e., "Some locations are credit card entry only" and so forth. Ticket prices are listed as ranging from $33 to $278. I'm guessing that both the Facebook event and Ticketmaster sales page will be removed soon.
This has happened before previous U2 tours/legs. It could just be a system test using a random city, venue and date. It could also be an actual show that U2 is planning for next year, and could be a sign that a tour announcement is coming soon. If October 2017 seems too far away for an announcement now, keep in mind that the entire 2015 tour -- with dates from May to November, 2015 -- was announced on December 3, 2014.
We've sent an e-mail to U2's communications team and will update this post if we learn anything new.
You can join the fans discussing this in our forum.